Thinkruptor Magazine Issue 3: From Creating Products That Customers Love to Building Teams That Work
The newest issue of Thinkruptor Magazine has, quite literally, been a long time coming.
As of this year – and now with our third issue published – Thinkruptor is a quarterly magazine that features, speaks to, and discusses what we like to call the modern, working entrepreneur.
You may not have heard of many of the people and companies we feature on our pages. In fact, we sort of hope you haven't heard of them yet. Unfortunately, only a handful of successful self-made business people in today's global markets seem to be getting the limelight, while most (and their valuable advice) go unnoticed.
So we're afraid you won't be reading about the likes of Richard Branson, Warren Buffet or Mark Zuckerberg's uncomplicated wardrobe in Thinkruptor Magazine.
Instead, we spoke to people you might want to and could get to know.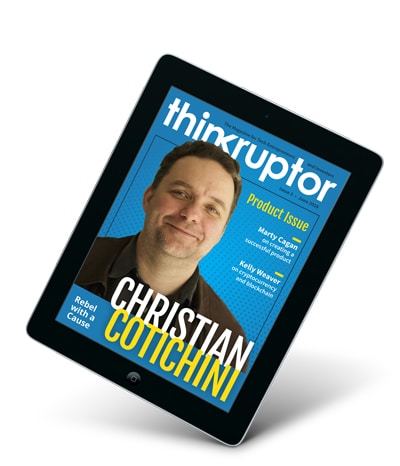 In this particular issue, we introduce you to four-time successful startup founder, investor, and serial entrepreneur Christian Cotichini and his experiences in building and growing four very different companies. Be warned, Cotichini is opinionated, experienced, and unconventional. He shares experiences and thoughts, not recipes for success.
For a business-oriented explanation of all things blockchain, we turned to Kelley Weaver, one of the leading experts in this new field and founder of Melrose PR, an innovative cryptocurrency and blockchain communications agency based in Los Angeles.
For those who haven't had a chance to read Silicon Valley master of all things product-related Marty Cagan's 'Inspired: How to Create Products Customers Love' in the last decade, we explore the new, updated edition of the book, with Cagan himself.
Thinkruptor's regular columnist, retired Navy SEAL and founder of Impact Actual Rob DuBois, a.k.a. #MisterImpact, penned a piece for this issue about integrity, what it is, how to get it and, more importantly, how to hold on to it. Follow and read more from DuBois every month or so on our blog.
In the latest issue, we also mention several new tech industry-related regulations and speak to Content Insights CEO Dejan Nikolic, who leads us through his late-stage, data-crunching startup's $15,000 experience with GDPR compliance.
When experienced C-level tech industry executive Fran Hauser released her debut book in April, 'The Myth of the Nice Girl' quickly caught our eye and made it the top choice for our book review section. The review comes from a very personal POV, because any woman who has ever worked a day in any industry can't not take it personally.
We also researched gadgets and tools that might be useful (or necessary) for the modern entrepreneur on the move, delve into practical digital communications tips for distributed teams, and explored industry-related events across three continents that we recommend grabbing tickets for ASAP.
That covers about 50 of the 72 pages in this issue of Thinkruptor. Obviously, we highly recommend that you head over to either iTunes or Play Store to download the new issue. But we also ask that you set aside a couple of minutes after reading it, to let us know what you really think of it. Any feedback and constructive criticism will be greatly appreciated – #MisterImpact tells us that's the only way to build integrity and get better.